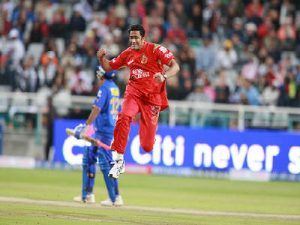 Former Indian captain Anil Kumble has pulled out of this year's Indian Premier League (IPL), citing personal commitments, India's cricket board said Tuesday.
Kumble, captain of the Royal Challengers Bangalore franchise, had been instrumental in his team's turnaround in the 2009 edition, leading the side to the final of the money-spinning Twenty20 tournament.
The leg-spinner was not retained by his franchise for this season and was among those players put up for auction with the highest reserve price of 400,000 dollars.
The auction for the fourth edition of the tournament is set to take place in Bangalore on Saturday and Sunday.
"I wish to withdraw from the players' auction," a press release from the Board of Control for Cricket in India (BCCI) quoted Kumble as saying.
"I have enjoyed my stint at the IPL so far and thank all concerned for the support extended," said Kumble, who was elected as the president of his state's cricket association in November.
Kumble retired from international cricket in 2008, but remains India's leading wicket-taker in Tests (619) and one-dayers (337).
IPL's chief operating officer Sundar Raman said that Kumble's absence would be felt.
"Jumbo (Kumble's nickname) will be missed in IPL. Been an inspiration for many youngsters," he said in a Twitter message.
Other top stars have also opted out of the IPL, including the Australian trio of captain Ricky Ponting, his deputy Michael Clarke and fast bowler Mitchell Johnson.
A legal dispute over which teams will compete in the IPL has yet to be resolved, but the eight founder franchises are likely to be joined by two new teams from Kochi and Pune for the auction.
The tournament will kick off on April 8, just six days after curtains are drawn on the World Cup.