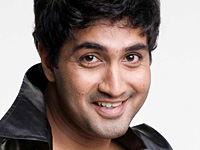 The Kannada film 'Gun' is fully loaded. It is ready to fire in the last week of January says actor cum director Harish Raj who is joint producer of the film with K Murali of Nishanth Constructions.
In 40 days we have shot talkie for 26 days and the budget for songs is more. Kiran Rathod and Rachana Mourya appears in one song each stated Harish Raj. Mallika Kapoor and Nikitha are the counterparts to Harish Raj in the lead role. Actress Nikitha is a college going heroine while Mallika Kapoor is a TV6 anchor.
For producer K Murali investing Rs.1.80 crore is not a big amount for the first time. Investing in the area of choreography, action, lyrics needs good money he says. Lyricist K Kalyan, the birthday boy cut a cake after the audio release and in his poetic style stated 'Manassu Thannage agbekandre Hrudaya Bisi Agbeku'. Another top lyricist on the way to get married Kaviraj explained some professional secrets of throwing good lines later on when the director come asking for lyrics.
The audio of the film was released by two lyricists Kalyan and Kaviraj with other team members. Ronnie Raphel music director of the film did not turn up for his audio release function.