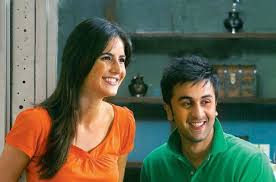 Bollywood actress Katrina Kaif says that her thoughts on marriage have changed drastically. We wonder if Kat's change in perception has to do something with boyfriend Ranbir Kapoor! Well, whatsoever it might be, but when we talk about Katrina's marriage, there's noway we can leave out Ranbir out of this topic of discussion. During a recent interview, when Katrina Kaif was enquired about her marriage plans, the actress said, "My thoughts on marriage have changed drastically.
Relationships for me change with experiences". Kat further said that she will definitely get married to the person, whom she loves insanely and cannot live without. "I do know that I will only get married if I love that person insanely and can't live without him and if I get that back from him," here's what Ms Kaif has to say. So guys, do you think this statement of Katrina is any indication of what's coming next in her personal affair with Ranbir.
Is Katrina Ready For Marriage With Ranbir? What has certainly struck our minds was if Katrina Kaif's so-called above statement somewhere indicates Ranbir Kapoor. It's almost confirmed that both Ranbir and Kat are in a serious relationship. They have indeed been in a strong and steady relationship for years now. And if the latest buzz is to be believed, Ranbir, who was once known for his flirtatious ways, is a changed man now and is also heard giving a big ignore to his Besharam co-star Pallavi Sharda.
We further hear that the Kapoor lad is all set to propose Katrina for marriage on his birthday. If we consider all of these rumours as well as Katrina's recent statement on marriage, it's an obvious indication that Katrina is so very much in love with Ranbir and is possibly planning an engagement soon.