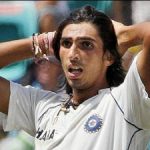 LONDON: India pacer Ishant Sharma on Sunday defended skipper Mahendra Singh Dhoni's decision to not give the ball to the in-form bowler at a crucial juncture of the fourth day's play at the Lord's Test against England, saying that he had himself asked the latter for a break.
Dhoni left quite a few surprised by not using Ishant – who had destroyed England's top-order with a hostile spell just before lunch – straightaway into the second session.
"I am also human. I have a body to look after and there are three more Test matches. I had bowled 11 overs in the first session and during the break, Dhoni asked me if I wanted to bowl straightaway after lunch or if I preferred a break. I said I wanted a break," Ishant told reporters.
Ishant, who finished with figures of four for 59 in the second innings, credited Zaheer Khan for the success.
"I wasn't used to the slope at Lord's and was bowling from the pavilion end while Zaks (Zaheer) wanted me to bowl from the other end. I went my way in the first innings while I went his way in the second," stated Ishant.
"From the pavilion end, the slope of the wicket was taking my inswingers further away from the batsmen. When I bowled from the other end today, I was able to control my movement and a few deliveries held their line as well.
"One such delivery fetched me the wicket of Ian Bell."
Though Ishant was happy with his effort, he was miffed that he didn't pull his weight in the first innings. "I am happy but if I had bowled with the same energy and length in the first innings, we could have been in different position."
India had England on the mat at 62 for five but the absence of a fourth bowler hit the visitors hard. "If there was a fourth bowler we could have applied more pressure. One or two wickets at that stage could have put us in a different position."
For Ishant the most satisfying moment of the day was when he took the wicket of first innings double centurion Kevin Pietersen with a rather wicked bouncer.
"Gautam (Gambhir) was standing at mid-on when I began my over to Pietersen. I asked him should I bowl him a bouncer. He said I could. It's his first ball and you don't know what could happen.
"I took a deep breath and bowled the bouncer and it worked."
Despite being faced with the prospect of a ban due to slow over-rate, Dhoni left it on his bowlers to bowl the way they wanted to.
"We don't want our captain to be banned who is a tremendous batsman and leader. His words to us was if we could cut a minute, just a few seconds it would help. Otherwise he asked us to bowl whatever way we were bowling," Ishant said.
As far as India's chances in the match was concerned, Ishant sounded confident despite being set a target of 458. "The one thing about the Indian dressing room is that we are very confident of ourselves, we are always calm whatever is the situation.
"We have been positive so far but the conditions in England are absolutely opposite to India. There could be an odd ball which can do something and dismiss you," he said.