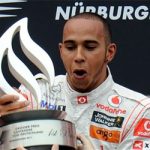 NUERBURGRING: Lewis Hamilton captured a first McLaren victory of the Formula One season by winning the German Grand Prix ahead of Ferrari's Fernando Alonso and Mark Webber on Sunday.
The Briton started from second on the grid behind Webber but took the initiative after passing the Red Bull driver going into the opening corner.
The lead changed hands between Hamilton, Webber and Alonso during the race but the McLaren driver managed to defend his lead at the final pit stop to claim the victory.
Championship leader Sebastian Vettel in the second Red Bull snatched fourth place from Ferrari's Felipe Massa following a last-lap pit stop.