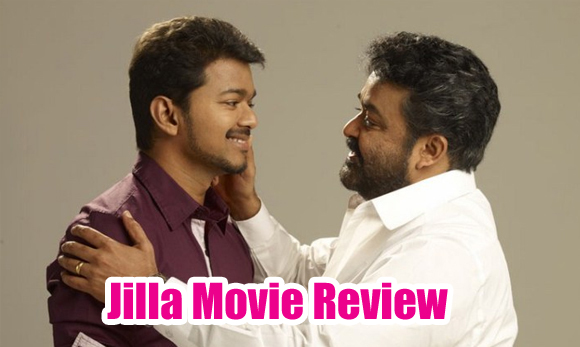 Movie : Jilla
Director: R.T.Neason
Producer: R. B. Choudary
Banner: ATMUS Entertainments,Gemini Film Circuit
Music: D. Imman
Jilla Movie Cast
Mohanlal as Shiva
Vijay as Shakthi
Kajal Aggarwal
Mahat Raghavendra
Niveda Thomas as Mahalakshmi
Soori
Sampath Raj
Pradeep Rawat
Brahmanandam
Thambi Ramaiah
Poornima Bhagyaraj
Vidyullekha Raman
Ravi Mariya
Gautam Kurup
Jangiri Madhumitha
Vinodhini
Jiiva (Special appearance)
Prakash Raj (Guest appearance)
Scarlett Mellish Wilson (Special appearance)
Jilla Movie Review
layathalapathy Vijay and Megastar Mohanlal's Jilla released grand with huge openings in Tamil Nadu and 207 screens in Kerala along with USA.
Jilla is the story of the sweet relationship between Sivan (Mohanlal) and Shakthi (Vijay) which turns sour due to a series of events.
The movie begins with a classy intro for Mohanlal followed by a little flashback. But the real fun begins when Vijay arrives with a thunderous stunt scene. The first half traverses with comedy which is silly at times, songs at regular intervals and a few action scenes. The interval block is bang on, as Neason had a good twist in store there.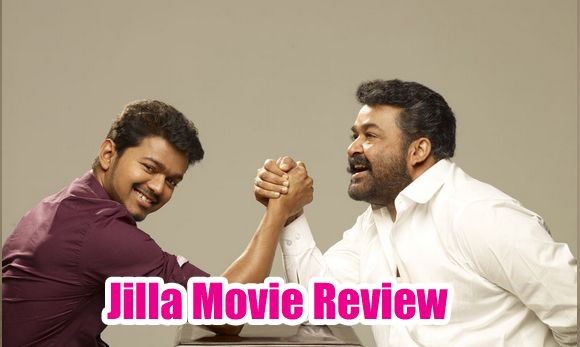 Into the second half, and Jilla follows the tried and tested commercial movie formula. Songs, fights and punch lines galore, the circle of problem arising in one scene, and getting solved in the next swirls for quite a number of times. Although there are some scenes which are absolutely hair raising, there are a few which will make you squirm in your seat. The twists at the end too, are predictable.
Coming to performances, and the two stalwarts are a joy to watch. Vijay keeps the tempo going with his funny mannerisms, which do go over the top at a few instances. It is doubtlessly an enjoyable performance though. Mohanlal who grabs the majority of the screen space in the first half is mighty as he fits into the role of the character pretty well, and excels in his Tamil diction. Kajal is cute, and looks like a dream in the song sequences. Out of the supporting performances, Mahat Raghavendhar is a charm in his pivotal role. Poornima Bhagyaraj, Niveda, Sampath Raj, Pradeep Rawat and the others fit the bill.
Dialogues by N.Baskaran are good, albeit sounding too punchy when it comes to Mohanlal. Cinematography by Ganesh Rajavelu is appreciable, especially in the stunt sequences. Editing by Don Max could have much crispier, as it would have aided the lengthy runtime of the film. Although they lack sense, the stunts are visually worthy. Choreography in Jilla was a huge blow as Imman's foot tapping music was brought down by the unimpressive dance moves. Vijay's wardrobe deserves a special mention.Music by D.Imman is the kingpin of Jilla. The songs are already tring ringers amidst all stations. Bringing in almost 5 different versions of the theme, he has put in all his efforts to make the BGM stand strong.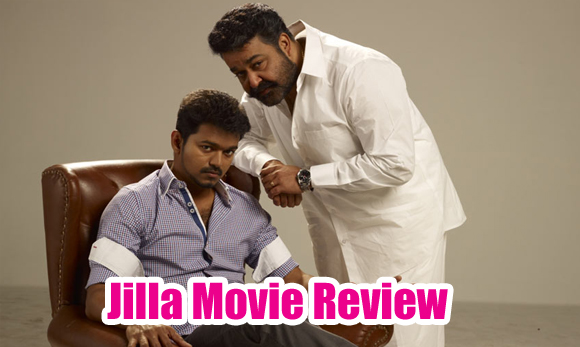 RT.Neason could have scaled heights with the story he had with Jilla. The screenplay however, doesn't hit full monty and the movie ends up being a disappointment, baring in the mind the starcast and the production values. Nevertheless, nothing can stop Jilla from being a box office success, lapped up with glee by the fans especially.