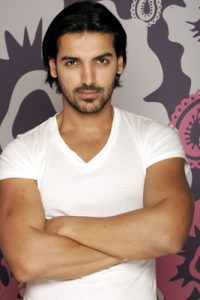 After Salman Khan in "Dabangg" and Ajay Devgn in "Singham", get ready for John Abraham's cop film, "Force", in which the star performs gravity defying stunts without the protective cables.
"He was very flexible and I didn't use any cables. This is the first time I did any action without using any cables. John has done everything by himself," popular action director Allan Amin said.
"He had to jump from 150 ft on an air bag without using any cables and he had to pick a bike of 150 kg, which again he did without cables," said Amin, who was also the action director of "Dhoom".
"It has action like 'Satya' but is completely stylised," he added.
Amin shoots down reports of John's injury while doing the dangerous stunts, saying: "He was not injured, he was bruised while doing bare body stunts. If you fall on ground with that much of weight, obviously you are going to get a scratch."
In this remake of the Tamil film "Kaakha Kaakha", John is paired with Genelia D'Soza.
The model-turned-actor made his debut in Bollywood as a passionate lover with "Jism" (2003) and then moved on to action with "Dhoom" (2004) followed by "Kaal" and then the terrorist drama "New York" (2008).
Amin, the man behind stunts in the first two instalments of "Dhoom", isn't sure about part three, but says there will be incredible action sequences in his next project with Abhishek Bachchan called "Players", an official remake of "The Italian Job".
"I don't know 'Dhoom 3', but my 'Players' is coming now. It's a very different film. It's 'The Italian Job', but I tried to make all the action sequences much bigger and better than 'The Italian Job'," said Amin.
Interestingly, Amin stays away from watching Bollywood or Hollywood action films and says he takes inspiration from story books.
"I read lots of storybooks. In a book the writer gives the finer details of the action sequences; so you learn from that. If you follow any particular style, it shows that you have copied. I read novels of Frederick Forsyth and Wilbur Smith," he said.
The action director has already hosted a stunt-based reality show "Stunt Mania". He is also set to judge another action reality show "Jaanbaaz" along with actor Sunny Deol.