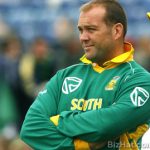 CAPE TOWN: South African batsman Jacques Kallis was involved in a freak car accident here in the wee hours Tuesday but was unhurt and will be available for the Boxing Day Test against India in Durban.
South Africa's team manager Mohammed Moosajee said the incident took place when Kallis, who was the man of the match in the first Test against India, was driving back to his home after midnight and rammed his Audi R8 into the gate of a house in Wynberg, a suburb in the south of Cape Town.
"Jacques had no injuries at all and is totally fine. But the front side of his car was damaged. It was a freak, minor accident and there was nothing untoward about the manner in which it happened," Moosajee said.
Kallis' agent, David Rundle, maintained that he was not drunk and was also not over speeding. "Jacques was sober behind the wheel and wasn't speeding," said Rundle.
Kallis struck his maiden double century in the first Test against India which South Africa won by an innings and 25 runs.