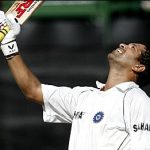 DUBAI: After scoring his record 50th Test ton against South Africa, India's batting maestro Sachin Tendulkar moved to the second spot in Tests batting rankings and has closed the gap on Sri Lanka captain Kumar Sangakkara, who is on top of the list.
With two Tests of the South African tour yet to go, Tendulkar has an excellent opportunity to overtake Sangakkara in top spot, but he will face tough competition from Jacques Kallis, who hit his maiden double century in the first Test that the Proteas won by an innings and 25 runs.
Kallis' double century earned him a rise of one place to third spot while pushing Virender Sehwag into fourth position. This has also strengthened Kallis' position as the leading all-rounder in Test cricket with a huge 78 ratings points advantage over New Zealand skipper Daniel Vettori, who is in second spot.
Fifth-placed AB de Villiers' 129 not out from just 112 balls has earned him a new career-high rating of 806 points, while Hashim Amla, who hit 140 in South Africa's mammoth total of 620 for four declared in the first innings, has moved up three places to ninth spot in the latest rankings.
Meanwhile, Mike Hussey's heroics in the Perth Test, where he scored 61 and 116 in Australia's 267 run-victory over England, have seen him fly eight places up the rankings. He now sits in sixth position, which is the first time that he has been in the top 10 of the batting rankings in two years.
Shane Watson's consistent form in the Ashes series has seen him rise a further 13 places to 13th spot, achieving a career-high rating after his performances in Perth, while Kevin Pietersen's double failure in the match has sent him in the opposite direction in the rankings, falling nine places to a joint-25th position with Ian Bell. Jonathan Trott has also slipped four places to 10th spot.
On the bowling front, South African Dale Steyn's seven wickets in the first Test against India have ensured that he maintains the top spot in the bowling rankings.
Mitchell Johnson's outstanding performance in Perth, taking 6-38 and 3-44, is rewarded with a fourth place in the rankings, a rise of three places, although he remains behind Morne Morkel who also jumps three spots to third after he achieved match figures of 7-114 against India.
Rankings:
Batsmen:
1. Kumar Sangakkara (Sri Lanka) 882 rating points
2. Sachin Tendulkar (India) 880
3. Jacques Kallis (South Africa)846
4. Virender Sehwag (India) 832
5. AB de Villiers (South Africa) 806
6. Mike Hussey (Australia) 803
7. Mahela Jayawardena (Sri Lanka) 781
8. Shivnarine Chanderpaul (West Indies) 779
9. Hashim Amla (South Africa) 768
10. Jonathan Trott (England) 767
Bowlers:
1. Dale Steyn (South Africa) 876
2. Graeme Swann (England) 821
3. Morne Morkel (South Africa)
4. Mitchell Johnson (Australia)
5. James Anderson (England) 744
6. Mohammad Asif (Pakistan)
7. Zaheer Khan (India) 736
8. Shakib Al Hasan (Bangladesh) 648
9. Mohammad Amir (Pakistan) 645
10. Harbhajan Singh (India) 633
All-rounders:
1. Jacques Kallis (South Africa) 451
2. Daniel Vettori (New Zealand) 373
3. Shakib Al Hasan (Bangladesh) 338
4. Shane Watson (Australia) 321
5. Stuart Broad (England)