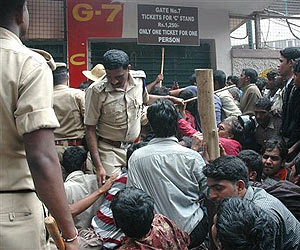 BANGALORE: The chaotic scenes at the Chinnaswamy stadium last week for tickets to Sunday's India-England World Cup tie is turning out to be a major issue for Karnataka legislators.
The assembly would discuss the matter Thursday and decide whether to set up a committee to probe the mess, which some members called a "scam".
Thousands of people had queued up Thursday at the stadium and police staged a baton charge to keep the milling crowds under control. Only around 7,000 tickets were sold at the counters for a stadium with a capacity of around 50,000.
Several legislators were angry that they were not treated fairly in ticket distribution. A number of tickets had been set apart for the legislators, who had to collect it from the speaker's office.
S.R. Vishwanath, a member of the ruling Bharatiya Janata Party, claimed that only 5,000 tickets were meant for the public and of this only 1,000 were sold to them. "The rest went in the black market," he charged.
He held the Karnataka State Cricket Association management responsible for the mess. The KSCA is now headed by former India captain and leg spinner Anil Kumble. Former paceman Javagal Srinath is the secretary.
Srinath has apologized to the fans for the baton charge and also for inability of the KSCA to provide tickets to all of them because of commitments to KSCA members, other state cricket associations, International Cricket Council, Board of Control for Cricket in India, sponsors and the like.
Two Congress members N. L. Narendra Babu and N. Sampangi and Vishwanath raised the issue of baton charge on the fans though "calling attention motion" and insisted that only a house panel (committee of legislators) would bring out the true picture.
They were supported by several other ruling and opposition members.
The members sought a house committee to find out how tickets sales were managed and whether they were sold in black market.
Law and Parliamentary Affairs Minister S. Suresh Kumar told the legislators that the house could discuss the issue Thursday and then decide whether to set up a panel.
Speaker K. G. Bopaiah announced that a decision on forming a panel would be taken "after discussion on March 3".
The Chinnaswamy stadium, in the heart of the city, is built on land leased by the government.