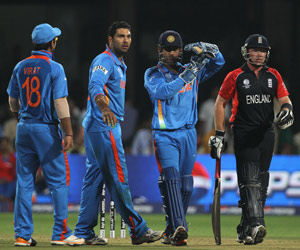 NEW DELHI: The International Cricket Council (ICC) on Tuesday advised India skipper Mahendra Singh Dhoni to read the rules related to UDRS before questioning the implementation of technology during the matches.
Dhoni, who is not in favour of using the the Umpire Decision Review System (UDRS), had yet again posed a question mark over the system following the controversy surrounding Ian Bell's decision in the tied World Cup game with England on Sunday. "Adulteration of technology with human thinking is bad. That's why we didn't get that wicket. Hopefully, next time it will be either technology or human intention," Dhoni
had said after the match.
ICC General Manager, Dave Richardson, said Dhoni should be aware of the rules before commenting. "There are a set of rules along with Hawkeye to assist in making the decision when UDRS is implemented.
Most of the time, a player is not fully aware of all the rules," Richardson said.
"If MS Dhoni is made aware of the specifications of these rules, then I am sure that he will accept the decision that was made," said Richardson.