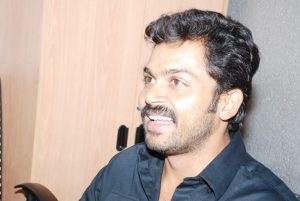 At the audio launch function of 'Boss Engira Baskaran' a few months ago, the cameraman of the film Shakthi Chidambaran candidly requested actor Suriya to listen to a story director Rajesh has and even recommended Suriya to take up that action-thriller as it would suit him perfectly.
Suriya who was also there at the function as a special guest, responded to Sakthi Saravanan by saying that he would definitely listen to the story from Rajesh and see how to take it further.
As promised Suriya heard the story and was very impressed with it. But he suggested his brother Karthi to Rajesh saying it would fit him a shade more. Suriya also ordered Karthi with love not to miss the great story.
Karthi is now busy winding up 'Siruthai' for Pongal release. After that he is likely to get into the guaranteed hands of Rajesh whose 'BEB' is the biggest hit of 2011 after Endhiran.