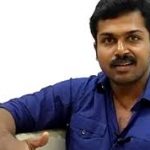 Karthi has done the lead role in the film Siruthai. The film has been released and it is a great entertainer. So far Karthi who had large number of girl fans has now earned a large number of children fans.
Is it a healthy thing to show a pickpocket as a hero?
I don't think so. I see this has an entertaining film. I have not come here to preach or advice anyone. People who come to theatres should forget their worries and enjoy for two hours.
There is news that efforts are being made to make you act with your brother Surya?
First you should get a story that suits us and there should be a good director to direct it. Above all there should be time for us both to join. My brother is busy for two years. So if we get a good story, then we both will act and fulfill the expectation of the audience.
You had worked as an assistant to Manirathnam. How did this experience help you in acting?
I never had the habit of book reading. Only after joining Manirathnam I developed the habit of reading. I cannot write the full script. But I knew how the story in the book will come on the screen. When the director asks me that I should act like that, I understand it and act accordingly.
Does your sister-in-law comment after seeing your films?
When she knew that I was dong police officer role, she sent to the theatre and saw the first show along with audience and enjoyed it. She appreciated my acting through SMSs. She really laughed whole heartedly and enjoyed the film.
Is there any chance for you to join hands with Ameer once again? Does this separation hurt you a lot?
It is a tough job to do a film. Lots of things have happened. I never think about these things. I am very much concentrating on my next step. Apart from this only time should reply.