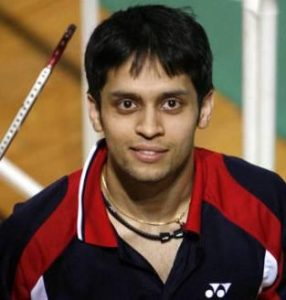 Shuttler Parupalli Kashyap on Wednesday became the first Indian man in history to reach the quarter-finals of the Olympic Games after securing a hard-fought 2-1 victory over Sri Lanka's Niluka Karunaratne at the Wembley Arena.
The 21st ranked Kashyap had to bring in all his experience and craft into play to quell the strong challenge of his rival, ranked 27 places below him in the world chart, 21-14 15-21 21-9 in the pre-quarter final clash that lasted 66 minutes.
The 25-year-old Hyderbadi thus emulated the feat of Saina Nehwal, who became the first-ever Indian to reach the last-eight stage in the Beijing Games four years ago.
Kashyap survived a scare from the 5 feet 8 inch tall Sri Lankan in a match that witnessed several long rallies.
The Indian was made to work hard for every point as the Sri Lankan showed excellent retrieving power and engaged his opponent in long rallies.
In the first game, Karunaratne went ahead to a 7-4 lead but Kashyap got the measure of his opponent quickly and showed flashes of experience to first narrow down the gap and then build a healthy six-point lead at 17-11.
Kashyap delighted a packed audience with some beautiful cross-court winner and his trademark drop shots to pocket the first game with a powerful smash.
The Sri Lankan, however, made an impressive return in the second game and involved the Indian in long rallies, forcing Kashyap to commit sideline errors.
It looked like the discussion with his father coach during the break had instilled a new belief in the Sri Lankan as he came back more determined and took a commanding 10-point lead at 18-8.
Kashyap, however, tried to make a comeback and saved eight game points but Karunaratne clinched the game with a smash.