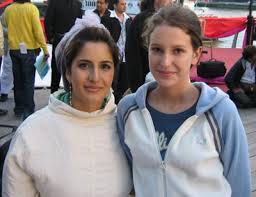 Slow and steady seems to be the course of Bollywood actress Katrina Kaif`s younger sister Isabel`s career. She has been signed to play the second lead opposite British Indian actor Kunal Nayyar in French director Jean-Francois Pouliot`s 'Dr. Cabbie'.
The film, co-produced by Salman Khan, features Vinay Virmani, who played one of the title roles in Bejoy Nambiar`s undervalued 'David'.
Salman wanted to cast Isabel opposite Vinay, but by the time the decision was taken to cast her, it was too late, says a source.
"The `G.I. Joe` actress Adriane Palicki had already been signed opposite Vinay. So Isabel stepped in to co-star with the film`s second lead Kunal Nayyar, who has worked in the hit British series `The Big Bang Theory`," said the source.
Sources from Canada, where the film is being shot, say co-producer Salman is taking a keen interest in the project and in Isabel`s role.
According to sources, Isabel will make her full-fledged Bollywood debut in 2014 in a film that may be jointly co-produced by Salman and Katrina.
Speaking from Canada, the film`s leading man Vinay said: "Isabel has joined our project. She`s a really sweet girl, very easy-going and fun to work with."