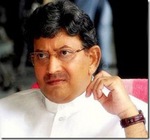 Yes! You read it right, if sources are to be believed Superstar Krishna is in plans to direct a new film with his son Prince Mahesh Babu. Speaking on this Krishna said, "Mahesh has developed a unique style and a huge fan base with his films. I'm looking for a perfect script to wield the megaphone for Mahesh's film. I hope it will materialize soon."
As of now, Mahesh is busy with Dookudu in Srinu Vytla's direction that is gearing up for release shortly. Later to this, Mahesh has also signed a film The Business Man with Puri Jagannath as director, which has heroine Kajal Agarwal.
More details on Krishna-Mahesh's project soon. A superstar directing another Superstar… Isn't it interesting folks???