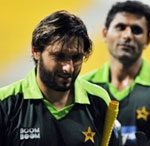 Pakistan's One-Day International captain Shahid Afridi on Friday said that he is left with only one ambition in his cricketing career and that is to end his playing days by winning the World Cup for his country.
Afridi told the media in Lahore that he had a burning ambition to see Pakistan win the World Cup.
"Part of that ambition was fulfilled last year when we won the ICC World Twenty20 in England but as captain I would love to end my career having led the side to the World Cup title next year in the sub-continent," he said.
Afridi pointed out that 2010 had been a very demanding year for Pakistan cricket and he wanted to see the team start off on a winning note in 2011.
"In the new year we will try to give Pakistan cricket the place it deserves," said Afridi.
The skipper also clarified that he had never said that the national team was not on the right track as far as preparations for the World Cup is concerned.
"I think I was misunderstood in what I wanted to say. I was talking about settling on a 100 per cent combination but I believe that we have already accomplished 90 per cent of the task in finalising our squad for the World Cup," Afridi said.
The flamboyant all-rounder said that the upcoming tour to New Zealand would help the team prepare for the World Cup.
"I am sure that this tour will enhance the confidence of our players and that would reflect in the World Cup. Playing in difficult batting conditions in New Zealand and then on the sub-continental pitches in the World Cup will be something our players will relish."
He pointed out that both Pakistan and New Zealand are searching for victories and to hit the right form before the World Cup. And that is why the forthcoming series would be intensive and interesting.
"If we can take advantage of the pressure the Kiwis are feeling right now after being beaten by Bangladesh and India, then I am sure our players will go into the World Cup as a confident lot."
On the presence of former captain Javed Miandad in the training camp as batting consultant, Afridi said it was definitely a positive move.
"Obviously I don't think that Miandad can now change the technique of atleast the senior players but his guidance is much appreciated and the tips that come from him are always very helpful," said Afridi.
"I have told the players to try and take maximum advantage of Miandad's presence in the camp."