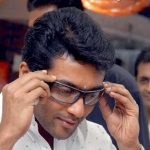 K.V. Anand's pre-production for his upcoming film Maatran is getting completed now. The filmmaker and his writer team Subha have almost completed the final draft of script. The film is said to go on floors by July 22 and both K.V. Anand and Harris are taking off to Rome to compose tunes. This will be a unique trip as the duo will compose tunes travelling in a cruise sailing across the Mediterranean.
Harris Jayaraj usually prefers foreign trips to compose tracks for his albums and had his journey to London recently for 'Nanban' along with Shankar.
With the team of K.V. Anand-Harris spelling out consecutive hits in Ayan and Ko, the expectations have become huge with Maatran.