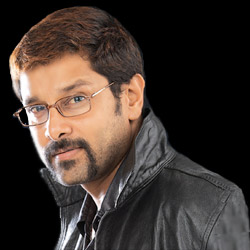 Tamil superstar Vikram has revealed that Mammootty is his role model. The actor says that the Malayalam Megastar has always inspired him to do a variety of roles.
Vikram says that though Mammootty has acted in several films as a police officer, he has been able to do all of them quite different from one another.
The actor also says that he doesn't like to be dragged into the number game. "I have no intention to be known as the Number One star, by doing one action role after the other. I would like to do a variety of characters instead," he adds.
Vikram is all set for a release this week with Deivathirumagal. This is rumored of be his best performance till date, and is said to have been admired by the members of the censor board as well.