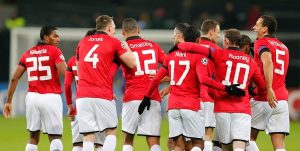 Manchester United remained unbeaten under new Dutch manager Louis Van Gaal on Tuesday, defeating Inter Milan 5-3 on penalty kicks after playing to a goal-less draw.
Inter's Marco Andreolli slammed a shot off the crossbar in the shootout to leave Manchester United ahead 4-3 and captain Darren Fletcher followed with the decider for the English Premier League side.
United began the pre-season American tour with a 7-0 romp over the host Lops Angeles Galaxy last Wednesday, then followed by edging AS Roma 3-2 at Denver three days ago.
United will continue the training campaign with a match Saturday against Real Madrid at Ann Arbor, Michigan, where a US record football crowd of more than 100,000 is expected.
A total of 61,238 at the home of American football's Washington Redskins watched the star European sides struggle to establish consistent pressure.
Chants for "Chicharito" were rewarded with striker Javier Hernandez's insertion by Van Gaal in the 78th minute.
Fredy Guarin, the Colombian midfielder for Inter who has been linked to a possible transfer deal for Hernandez, entered in the 84th minute.
Guarin blasted a free kick in the 85th minute that forced a leaping right-handed save by United second-half goalkeeper David De Gea.
Wilfried Zaha, the Ivory Coast winger given a second-half opportunity for United, missed on the near side in the 90th minute in the final solid chance before the penalties.
United defender Phil Jones produced the first scoring chance in the 10th minute but his header off a corner kick was rescued from just beside the right goalpost by Inter goalkeeper Samir Handanovic.
A tightly marked Wayne Rooney spun left and fired a right-footed shot from just outside the penalty area in the 18th minute that sailed just over the crossbar.
Jones and Chris Smalling each blocked a shots at the top of the penalty area in the dying seconds of a scoreless first half.
United had a reunion of sorts with former captain Nemanja Vidic, now playing for Inter.
The 32-year-old Serbian defender spent eight seasons at Manchester United, serving as captain from 2010 until his contract ended last month and he joined the Italian club.
Vidic cleared a centering bid from Shinji Kagawa in the 63rd minute, shortly after the Japanese star was denied on a give-and-go move with teammate Nani.
Tom Cleverly had a chance in the 71st minute but a right-footed flick of a bouncing ball sailed over the crossbar and Nani's blast in the 75th went directly into the keeper's arms.