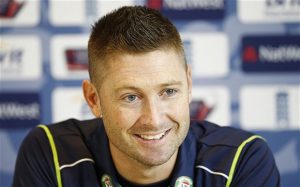 Australia captain Michael Clarke is confident he will be fit to lead his country in a one-day international against Zimbabwe on Sunday after missing the first two matches of the tour because of a hamstring injury.
Clarke sustained the injury to his left leg in the first training session in Zimbabwe and missed the 198-run victory over the hosts and 61-run defeat by South Africa in the opening encounters of the triangular series.
The 33-year-old had been desperate to return to competitive cricket in Zimbabwe after a four-month break and has been undergoing intensive physiotherapy to get back to match fitness.
"Batting-wise I`m completely fine, I feel it a little bit batting but not much at all so it doesn`t restrict me," Clarke told Cricket Australia`s website after training.
"The hardest thing has been running, so it`s a real positive sign that I`ve been able to get through today.
"I feel obviously frustrated because you train your backside off to play.
"But if all goes to plan I`ll have missed two games of cricket and I`m right for the next two … "
Clarke, who has also struggled with a recurring back problem for most of his career, will have to convince the team`s medical staff that he is fit in another training session later on Saturday.