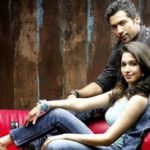 Star-casts: Surya, Thamannah, Akshadeep Saigal, Prabhu and many others.
Music: Harris Jayaraj
Lyrics: Vairamuthu
Cinematography: M.S. Prabhu
Editing: Antony
Stunts: Kanal Kannan
Well, as Surya said, 'It's a film that's been inspired vividly by the newspaper articles that every day glimpse and yet don't focus on those stories'. Of course, it's turn that we see them every time we see often. The film is about a big-time smuggler Doss (Prabhu) who has Deva (Surya) working under him. Deva goes about across all foreign countries smuggling pirated Film Videos, Gold, Diamonds and more… Deva has his sidekick Chitti (Jagan) accompanying him in all the conniving activities along with a deaf driver (Karunaas). Every time, they gear up with serious efforts for the collusive trip, cops are behind them. The opposite gang guy Kamalesh (Akashdeep Saigal) is the man on the opposite tracks.
However Deva manages to elope from their clutches without goods being seized. However, Goss doubts that the deaf driver happens to be a culprit in being an informer. Meanwhile, love blooms between Deva and Chitti's sister Yamuna(Thamannah)….
At the point of intermission, it's revealed that the culprit is none other than Chitti himself… Thus, created a riff between the love pair… But that's about it? Definitely not, there goes a greater chill of roller-coaster ride in the latter part that will move you to edge of seats.
It's a great performance by Surya who has lived under the skin of characterization. His looks and gestures a guy from North Chennai is a commendable one. Thamannah as usual brims up with cheeky and bubby looks. Akashdeep Saigal doesn't get much to showcase in the first half. However, as Prithviraj did it in 'Kana Kandein', this guy starts up his show in the latter part of this film. Prabhu as Doss does a superb act while Karunaas as a deaf driver is mediocre on his show.
Musical score by Harris Jayaraj is top notching especially the songs 'Vizhi Mudi' and the first title song. Cinematography could've been better as the tones don't catch up to be the best. Dialogues are enjoyable especially the lines uttered by Surya to Jagan about his sister prior to few minutes of intermission. Stunts choreographed by Kanal Kannan are mind-boggling.
K.V. Anand does a brilliant job with his gripping screenplay that will not let you turn or blink your eyes even for a second. On the whole, 'Ayan' is sure to rock the box office markets with a stupendous concept.