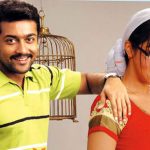 Cast: Surya, Asin, Vadivelu, Kalabhavan Mani, Lakshmi, Raj Kapoor
Music: Yuvan Shankar Raja
Direction: Hari
Production: Sri Rajakaliyamman Media ltd., Mohan Natarajan
Here is yet another South bound action movie with director Hari's style. The director has presented a racy film that proves to be a perfect entertainer, which has action, sentiment and romance in the right proportions. But at the same time the film looks like the mixture of Hari's old versions Ayya and Thamirabharani in most of the parts. However, the director has succeeded in giving a racy entertainer with all required ingredients.
The story starts with a family, which has twin children, being separated with one child. The separated boys grow up in different environments. One grows in Chennai becomes an officer (Vasu) in a private investigative agency and the other grows in Dindukkal becomes a typical rusty young man (Vel). Meanwhile Vasu falls in love with a television hostess '7 Up' Swati (Asin). At the same time Vel is given a tough time by Sankarapandi (Kalabhavan Mani), a former minister and local strongman, who has his own axe to grind. The twins meet, swap their roles and unite to fight the villain in a different way.
Surya in a dual role as an angry young man and a cool city guy with a comic sense has pitched in with yet another fantastic performance. Particularly his action packed performance in Vel character steals the show. Though there is no much difference in the get ups, he has got into the skin of both the characters adopting different body language and dialogue delivery techniques. His onscreen chemistry with Asin clicks once again just like his previous film with her – Ghajini.
Vadivelu is surely an asset to this films story and helps the viewers to relax in many scenes of this action cum sentiments packed movie – especially the 'tea shop' scene. Asin, with a typical 'soda butti' is looking very cute, particularly in the song sequences. Kalabhavan Mani is the usual villain you have seen in many similar films with his trade mark loud act. Lakshmi, Raj Kapoor and Charan Raj also done their part well.
There is nothing special in Yuvan's Music. The Switzerland dream song will bring the title track of Ghajini back to the viewer"s minds. It is the brisk pace of the film, which makes it a racy entertainer. It seems that the director safely has ridden with known subject and he has been successful. The way he has handled the story of the film is commendable. For Hari, 'Vel' is another successful action masala flick like 'Saami'