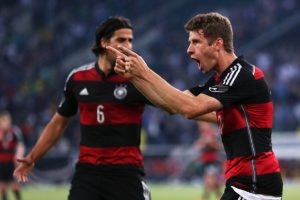 Belo Horizonte: German star Thomas Mueller admitted he was in shock Tuesday after his team romped to an incredible 7-1 thrashing of Brazil to reach the World Cup final.
"This was not to be expected," the Bayern Munich star exclaimed after his team trounced the World Cup hosts. "I don`t know what to say to be honest.
"I can`t believe it. It`s something totally crazy. It just went well today."
Mueller quickly urged his team to put the result behind them as they focus on Sunday`s final at the Maracana.
"Now we have to pull through one more time, we have to fight to get this thing."
Germany will be chasing their fourth World Cup crown on Sunday where they will face either Argentina or the Netherlands.