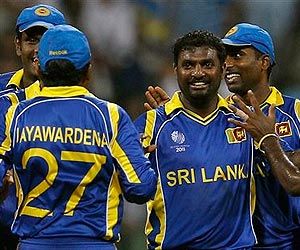 NEW DELHI: Muttiah Muralitharan made his mark on the last World Cup he'll ever contest, ignoring a painful hamstring strain and advancing age to take four wickets in a 112-run win over New Zealand on Friday that guaranteed Sri Lanka will finish second in Group A.
A month out from his 39th birthday, Muralitharan hurt his right hamstring as he fruitlessly dived for the crease trying to avoid a run-out late in the innings as Sri Lanka tallied 265 for nine.
He had to leave the field twice for treatment but still managed to bowl eight overs, beguiling the batsmen and returning figures of 4-25 — including the key wicket of Ross Taylor for 33 — as New Zealand was dismissed for 153.
Skipper Kumar Sangakkara, whose maiden World Cup hundred and 145-run third-wicket partnership with Mahela Jayawardene (66) tilted the match in Sri Lanka's favor, was full of praise for his team and more particularly for the most successful bowler of all time.
"The way the guys played today, we're well on our way," he said. "Murali, a legend of the game, bowling on one leg and still getting wickets — the rest of the guys chipped in and did what was required."
Muralitharan was clearly slowed by the injury while he was fielding, but it didn't show when he leaped in the air to celebrate his caught-and-bowled dismissal of Scott Styris, the last of New Zealand's recognized batsmen. Muralitharan said he forgot about the pain in his second over.
"We've got a few days. Hopefully he can be fully fit in that time period," Sangakkara said of the only player still active from Sri Lanka's 1996 World Cup-winning team. "Fingers crossed, we'll have him again for the quarterfinals.
"He needs to play. This is his last World Cup. We enjoy playing with him — he wins a lot of matches for us, we know that."
The quarterfinal lineup won't be set until Sunday. The winner of Saturday's match between defending champion Australia and Pakistan at Colombo will top Group A. Pakistan was the last team to beat Australia at the World Cup, back in 1999.
Group B is a long way from decided, with only South Africa assured of a quarterfinal spot ahead of the weekend. The Proteas play tournament co-host Bangladesh on Saturday morning in Dhaka. Bangladesh's best chance of advancing is by beating South Africa, which would put extra pressure on Sunday's match between India and West Indies.
The West Indies could have guaranteed their place in the knockout stage on Thursday, but lost four wickets in a late collapse and went down to England, keeping the English alive in the competition.
With so much at stake, South Africa is unlikely to rest any of its ailing key players.
"For the first time in the last couple of games we have got a fully fit squad to select from," skipper Graeme Smith said. "Hopefully all the guys remain fit and that would be exciting."
Legspinner Imran Tahir is expected to return after 10 days on the sidelines with a fractured left thumb, while batsman AB de Villiers (left thigh strain) and fast bowler Dale Steyn (right side problem) are also available for selection.
Smith said he was expecting a passionate pro-Bangladesh crowd and a highly motivated Bangladeshi team, but was confident his Proteas could handle it and carry some winning momentum into the quarterfinals.
That's something New Zealand had set out to do against Sri Lanka, but ultimately failed to achieve despite having Sri Lanka in early trouble at 19 for two.
Sangakkara and Jayawardene eventually got on top of a New Zealand bowling attack that was already missing skipper Daniel Vettori and paceman Kyle Mills and was weakened further when replacement fast bowler Hamish Bennett twisted his ankle and had to leave the field.
Sangakkara's first ODI century since 2008 took his career tally past 9,000 ODI runs, joining an elite group of 13 players who've surpassed that milestone.
A contentious decision, with the TV umpire turning down a referred call on Nathan McCullum's stunning return catch against Jayawardene, didn't help the Kiwis.
"We came here with high hopes of taking momentum into the quarterfinals," Taylor said. "The way Kumar Sangakkara and Jayawardene batted they put us on the back foot straight away with that great partnership.
"The way Muralitharan came out and bowled through the middle … we just kept losing wickets at crucial times."
Ireland finished the most impressive campaign by an Associate team by posting the fourth-highest successful run chase at the World Cup in a six-wicket victory over Netherlands.
After bowling Netherlands out for 306, Ireland reached 307-4 with more than two overs to spare, thanks largely to Paul Stirling's 101 and his 171-run opening stand with skipper William Porterfield. Stirling's 70-ball hundred was the fourth fastest in World Cup history, but still 20 balls slower than teammate Kevin O'Brien's 50-ball century in the upset win earlier in the tournament over England.