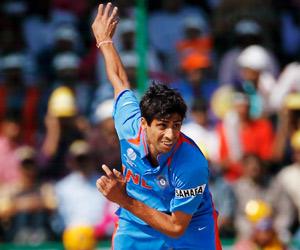 CHENNAI: Italian football managers, despite mostly possessing a versatile back-line, have perennially been rankled by this query, "Where do we get the goals from?" Similarly, India would be wondering where they would get the wickets, as the knockout phase looms.
Wickets can have therapeutic qualities for strike bowlers, but it works the opposite way, too, and Indian bowlers current trough is a reminder that besides talent, courage, discipline and heart, confidence is the key that opens the locks in sport.
True there is not a bowler around never to experience the odd moment of insecurity. But worryingly it's no longer an oddity.
So far, only Zaheer Khan has consistently taken or threatened to take wickets (12 at 16.41). Munaf Patel, after his first-match return of 4 for 48, has managed only five more wickets in three matches. Though stingy, Harbhajan Singh's meager haul of five wickets reflects poorly on a bowler deemed to charge India's quest for the World Cup.
Both Ashish Nehra and Piyush Chawla have matched each other only in their extend of listlessness. Ironically, part-timer Yuvraj Singh claimed India's maiden and only five-for in the World Cup.
But realistically has the current batch ever looked like one capable of winning the match by the prowess of its bowlers alone?
At best, they are canny in favourable conditions. Have they resembled a unit capable of defending whatever target their batters collate? So far, no. Let alone them folding out teams, but they fumbled to defend above-par totals like 338 and 296.
So, practically, they aren't entitled to the world class tag, though there are bowlers such as Zaheer and Harbhajan who fall under the category.
The rest inevitably need the cushion of runs, and on one of those days when the batsmen collectively crumble, the bowlers' incapacity would be amplified, which the South Africa match reminded to a certain extent.
But even in as gloomy a scenario as this, it's perplexing that the strategists aren't utilising the bench strength. For all his theatrics and the nightmare that was the Bangladesh match, S Sreesanth, with a strike rate of 32.3, is an attacking option worth seeking. R Ashwin, finally, seems to get a look in this Sunday.
That said, Italy did buckle the 2006 World Cup without a single striker worthy to be tagged world class. Dhoni and Co can gloat over this for the time being as well.