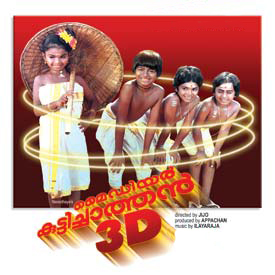 The first 3D film in India Navodaya Appachan's My Dear Kuttichathan, is going to release again digital 3D this Onam.
The film directed by his son Jijo was first released in 1984, and for the second time it was re-released in 1997 and dubbed into Hindi as Chhota Chetan with additional scenes with Urmila Matgonkar.
Now for the third time it is releasing 27 years after its first release. Once again additional footage in 3D digital format new actors like Prakash Raj, Santhanam, have been added to the cast. The running time has been extended by 25minutes.
Navodya Appachan is re-releasing My Dear Kuttichathan a third time for Onam 2011.