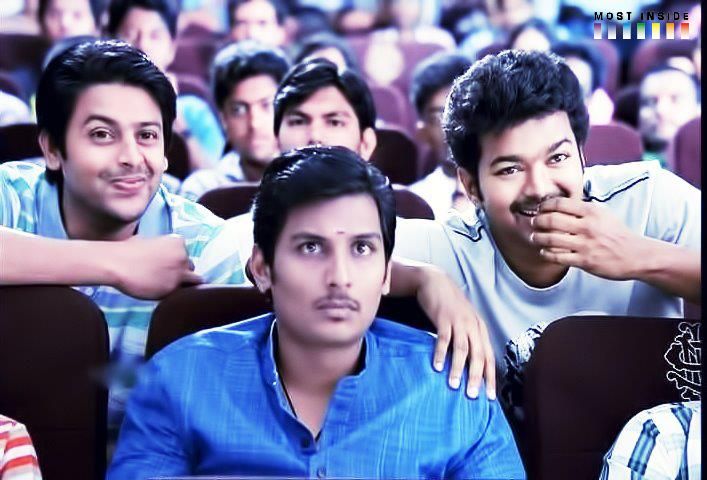 Movie Review: Nanban
Production: Gemini Film Circuit
Direction: Shankar
Star-casts: Vijay, Jiiva, Ileana, Srikanth, Sathyaraj, Srikanth, Sathyan, Anuya Bhagvath and others
Music: Harris Jayaraj
Cinematography: Manoj Paramahamsa
The fanfare was quite low in major cities of Tamil Nadu and of course South Indian states merely because 'Nanban' is a remake of '3 Idiots'. The Hindi blockbuster movie managed to sweep everyone's senses for its captivating theme, a strong message conveyed through hilarious ingredients with a blend of emotional quotient.
Well, when it comes to a remake, of course the filmmakers want to point one as the protagonist and not all, which indeed is a major reason, why Kollywood is still behind Bollywood in spite of having the greatest technicians, best actors, etc…
While the Hindi version had the title '3 Idiots' it gave equal importance to all the three characters – Aamir Khan, Sharman Joshi and Madhavan and now 'Nanban' is just about Vijay.
Let us not draw conclusions between these movies and now start with the analysis.
The film opens with Venkata Ramakrishnan (Srikanth) and Sevalkodi Senthil (Jiiva) starting their journey across the beautiful locales, not for a leisure trip, but in search of someone, who changed their lives enlightening them about their passion, listening to heart and today making them as the most eminent personalities of the industry. He is none other than Panchavan Parivendan aka Paari (Vijay). As the journey begins, the journey within starts travelling down their memory lane…. Amongst them travelling is Srivatsan (Sathyan), a topper in their class and today a bigwig in his technological industry. He is here to inform their buddy Paari that he has won the bet he had placed before years.
The flashback is about the college days and the machine lives of engineering students with the toughest professors including Virumandi Santhanam (Sathyaraj) making it tougher for them. While the students strive to achieve success in their own terms, which is about getting highest marks by mugging up the books without understanding them, Paari crystallizes them to core.
But we have something quite shocking to see as the suspense pops up when the friends reach the place happily to Paari only to see some other person (played by SJ Suryah).
Who actually Paari was? Is there some mystery behind his identity? Go watch it over the screens that is done in engrossing way, though it is a replication, but done in Shankar's way.
The film has a splendid message that everyone is hero in their own topics and fields. So there is no point distinguishing between white collar and blue collar jobs. Follow your heartbeat, discover your passion, develop your skills and success will follow you, you need not chase it.
The greatest highlight that offers justice to the original version is Shankar's ability to bring in the right kind of actors. It's not for the sake of favoring someone in particular, but Vijay is the only actor, who can pose jovially as a college student although many have been striving to look so. On the pars, Jiiva's characterization is engrossing and more of humour. Watch out for his family portions that will kill you with absolute laughter. Srikanth's role as a typical orthodox middle class family is done well. It's good that Shankar has thrown off the star-value and given importance to Srikanth as he narrates the entire story. Ileana looks apt for the role of a medical student and her performance as an innocuous child like heart is nice. Her portions during the penultimate sequences are appreciable. Sathyan looks little annoying for the role as he doesn't carry the humorous images and Shankar could have chosen someone else to essay this role, maybe Omi Vaidya himself.
The dialogues are almost the same from the original version but Shankar and Madhan Karky add up some gripping lines to savor to the tastes of Tamil audiences.
Technically, the film is brilliant than the original version with the promising technicians like Harris Jayaraj (fails to score well in background, but few songs are good) and top-notching cinematography by Manoj Paramahamsa, especially the songs are excellent.
On the whole, 'Nanban' is a special treat for the universal audiences, especially to the youth crowd. We recommend the educational institutions to screen special shows for all its students for its great message.