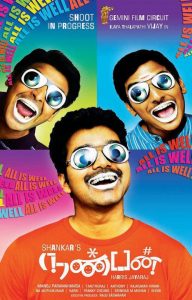 Vijay's Nanban which is getting rave reviews from all sides is set to break record collections.
Shankar has not targeted the film as a Vijay film instead he has given importance to each character and proved once again that he is a director who has his own style.
Vijay has proved that he can make the audience to cry with his splendid performance. You might see the 90's Vijay in this flick. Jeeva as usual rocks with his acting part especially at the drunken scene with the Principal.
Srikanth does a decent part as the striving youngster who wishes to make his passion as the profession. Ileana mesmerizes you with her sexy hips.
Nanban is sure to be the crowd puller of this pongal and is strongly expected to break record collections.