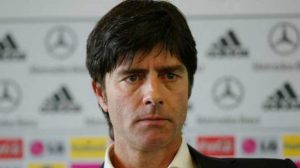 The absence of Brazil forward Neymar and captain Thiago Silva in their World Cup semi-final against Germany on Tuesday could make the hosts stronger, Germany coach Joachim Loew said on Monday.
Neymar is out of the tournament with a back injury suffered in the quarter-final victory over Colombia in what is seen as a massive blow to the hosts` chances of winning a sixth title.
Central defender Thiago Silva will also miss the game at Belo Horizonte`s Mineirao stadium because he is suspended.
But Loew said no one should underestimate Brazil because of those absences, saying special occasions like the much-anticipated clash of two of the world`s biggest footballing powers meant other players should rise to the occasion.
Brazil and Germany have won the tournament eight times between them.
"No one should think that Neymar`s absence or Thiago Silva`s absence is a drawback," said the Germany coach. "With (central defender) Dante playing for Thiago Silva you can`t expect him to play badly especially against Germany."
Bayern Muinich`s Dante, who has been playing his club football in Germany for the past five seasons, is expected to replace the Brazil captain in the heart of the defence.
POWERS RELEASED
"For the other players there will be powers that will be released in this game," Loew said. "A top player missing means other players take responsibility and I am sure they will play for Neymar and for the entire country."
Loew said he was saddened that Neymar, who has scored four goals in the finals and until his injury was Brazil`s poster boy in the tournament, was out, and that he would have liked his team to face the marquee forward on Tuesday.
"For him and for the team and the whole nation it is a terrible situation. We would like to have seen him more on the pitch," said Loew.
Germany will be aiming to reach their first World Cup final since 2002 while Brazil hope to end their opponents` run amid dreams of lifting the trophy on home soil for the first time.
"Brazil are the favourites in this semi-final, I see it like that," said Loew, although Germany have now reached the last four for a record fourth time in a row.
"Such a semi-final is a special thing, it is a fight of the continents," said the 54-year-old Loew. "They (Brazil) play with 200 million behind them, not only with fans in the stadium."
"We saw this energy here at last year`s Confederations Cup but we are confident we know what we can do and if we do it tomorrow our chances are not small either."