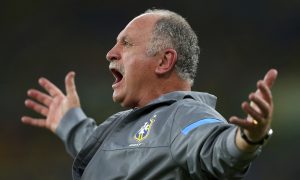 Alves was dropped to the bench in Brazil`s 2-1 victory over Colombia Friday, with Roma veteran Maicon taking his place at right-back.
But Neymar`s tournament-ending back injury prompted Scolari to promote Alves to his first team during training Monday – a move aimed to maintain Brazil`s attacking threat.
Scolari said the Selecao`s opposition scouts, Roque Junior and Alexandre Gallo, had studied Germany and presented their findings to the coach and his match committee.
"It wasn`t easy to pick the team," Scolari said.
"But don`t forget what I tell you; I work with a spectacular group of people. Gallo and Roque are looking at Germany. They have given us confidence that what we are going to do is right.
"When you work with a group of people like that, it gives you confidence. They have looked at the characteristics and the situation and we have used that information to define the team. When the teams go onto the pitch you will know the reasons for our choices," he added.
The inclusion of Alves would provide Brazil with another avenue to goal, while Maicon is seen as being safer defensively.
If Scolari does opt for Alves, he is likely to use Luiz Gustavo, Paulinho and either Fernandinho or Ramires to protect the back four.
"If I play with three defensive midfielders I will give more freedom to the fullbacks. With two defensive midfielders, there will be less freedom. That is all that I can say," Scolari said.
Germany coach Joachim Loew also gave little away about how his team might line up.
Captain Philipp Lahm is expected to start at right-back, as he did in the 1-0 quarterfinal victory over France, while Sami Khedira is likely to hold his spot in midfield.
But there are doubts over how Loew will set up his attack, and whether or not he will find space for Miroslav Klose, who earned his first start for the tournament against France.
"I will take a look at the team and then talk to the players Tuesday about it," Loew said, suggesting he was yet to make up his mind.