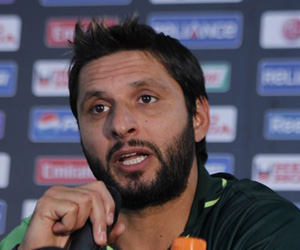 HAMBANTOTA: Pakistan have put the unsavoury spot-fixing scandal behind as they begin their World Cup campaign – with a match against Kenya here Wednesday – as serious contenders.
Pakistan coach Waqar Younis believes that the spot-fixing scandal, which led to their former captain Salman Butt, Mohammad Aamer and Mohammad Asif being banned, will not have any negative impact on the team. Their confidence stems from their 3-2 ODI win in New Zealand.
Pakistan also return to the World Cup with some haunting memories of 2007. They made a first round exit in the Caribbean following a shocking loss to Ireland and the next morning, their English coach Bob Woolmer was found dead in his hotel room in mysterious circumstances.
The death shocked the cricketing world and players were put under investigation by the Jamaican police for the death, which was initially seen as a murder.
The Pakistan team has just five survivors from the wreckage of the 2007 campaign – Younis Khan, Umar Gul, Mohammad Hafeez, Kamran Akmal and Shahid Afridi.
Waqar, a former captain, said past will not affect the team.
"Whatever happened last year is now history. This is a new place and an important tournament, so we want to be fully focussed and start the event like India and New Zealand did," said Waqar.
Afridi said the tragedy the team suffered in 2007 will always stay with them.
"There have been so many upsets in the World Cup in the past, like the one against Ireland four years ago, so we have that in mind and we will be on our toes in every match, be it Kenya or Sri Lanka," Afridi said.
"If they had a bad day then they can come hard on us. We will be geared up as our main aim is to win all our group matches," said Afridi of Kenya's 10-wicket loss to New Zealand in a Group 'A' fixture in Chennai.
Pakistan have the perfect mix of youth and experience that carry the team to the knock out stages. Opener Ahmed Shahzad and middle-order batsman Misbah-ul-Haq hit centuries in the first warm-up match against Bangladesh while senior batsman Younis Khan scored 80 against England.
Younis and Misbah will be the pillars of Pakistan batting while Afridi, Umar Akmal and Abdul Razzaq can destroy any team's bowling in the death overs.
Though the absence of banned duo Asif and Aamer is a big blow, the Pakistan bowling is still capable of bowling out some of the best batting line-ups. Gul and a half-fit Shoaib Akhtar have the firepower to rattle the top order while off-spinner Saeed Ajmal has the ability to take wickets even during Powerplays.
Meanwhile, veteran Kenyan batsman Steve Tikolo said that the African minnows have to lift their game if they want to avoid a successive loss in the World Cup. Kenya were bowled out for just 69 — their lowest World Cup score and the fifth worst in the tournament's history.
"As a top professional, for me if you are down it's the way you pick yourself up, and obviously we can pick ourselves up for the game on Wednesday," said Tikolo.Putting the unsavoury spot-fixing scandal behind, the dark horses will begin their first game on Wednesday.