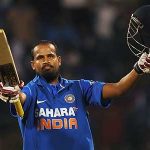 Yusuf Pathan finally brought to international cricket the brutal hitting and useful off-spin he's known for in domestic cricket. Figures of 3-49 were followed by a 79-ball hundred — in the end an unbeaten 123 off 96 — as India comfortably chased down New Zealand's 315-7 at the Chinnaswamy Stadium. Parthiv Patel's 52 set the chase up while Saurabh Tiwary's 37 gave Yusuf much-needed company in finishing the game off from a tricky situation made trickier by a rain interruption.
James Franklin's quick-paced 98 off 69 powered New Zealand past 300 after they yet again lost middle order wickets to Indian spin. The left-handed all-rounder has eased into the spot left vacant by the big-hitting Jacob Oram.
While he was New Zealand's only bright spot in this game, his efforts were not enough to prevent New Zealand extending their winless streak to 11 matches. India lead the series 4-0 and Daniel Vettori's best chance of avoiding a whitewash in Chennai may be through a washout.
Parthiv returned to ODIs after six years, making his first fifty that spurred the chase after a tentative start. Gautam Gambhir and Virat Kohli — India's best batsmen in this series — fell in one over to Andy McKay. Gambhir slapped a long-hop to point while Kohli's over-confident hook shot on zero settled safely into long leg's grasp.
This was the ideal chance for Yuvraj Singh and Rohit Sharma to make a big contribution. While Yuvraj warmed up nicely with a flat six over midwicket off Scott Styris, he disappointingly fell on 20 to Nathan McCullum. A slightly short ball was pulled low to the short midwicket.
Rohit was lucky to last more than two balls. Off his second, a huge inside edge off Vettori was caught behind but Amiesh Saheba said not out, possibly believing the loud appeal to be for an LBW. Vettori wasn't pleased; he argued with Saheba but it was too late.
India had slipped to 108-4 when Rohit and Yusuf steadied them with an 80-run stand. Rohit was needed to build on but holed out to mid-on. It left Yusuf with only Tiwary.
India were lucky to win this game. At the rain interruption, they were 17 runs behind the Duckworth-Lewis target of 220 in 36 overs. When the game resumed nearly at 10.20 PM, no overs were deducted but India still needed a stiff 113 from 14 overs.
After the break, Yusuf pounded Vettori first ball over long-on for six, raising his fifty. It was the third six Yusuf had taken off Vettori. Every one of them was effortlessly muscled past the ropes. Two overs later, a length ball from Kyle Mills bounced off the roof over midwicket, into the car park behind it.
The game slipped out of New Zealand's grasp in Mills' next over, the 43rd of the innings. It was a critical over since India were 13 runs behind on the D/L chart, and it had begun drizzling again.
Yusuf read the situation perfectly. The first ball flew over extra cover for four; the second was miscued over short fine leg for two; the third was flicked in the same area for four as was the fourth — a full toss — which bounced once before crashing into the boards. Suddenly, the rain had stopped.
The fifth delivery was on length, sat up nicely, and Yusuf lined it up for the stands behind deep midwicket. Having moved to 77 to 99 in that over, Yusuf reached his hundred by swiping McKay over midwicket for his sixth six of the innings.
So gobsmacked were New Zealand, despite India needing 51 from 42 at the start of the over, there was going to be only one winner there on. Such was Yusuf's domination towards the end of the game, when his partnership with Tiwary reached hundred, the young left-hander's contribution to it was just 17.
A couple of overs of peace prevailed before Yusuf broke it by half-heartedly ploughing a yorker-length ball from McKay for another six over midwicket.
Despite losing this rain-hit game this easily, New Zealand had for the first time in the series dominated sections of this game. Martin Guptill and Brendon McCullum signalled their all-or-nothing intent when Praveen Kumar's first over was taken for 14 runs. After a quick start of 62, Guptill drove Ashish Nehra to Yuvraj Singh's hands at cover.
First McCullum and then Ross Taylor searched for form, found it, couldn't build on, and fell to R Ashwin. McCullum's 42 (42b) had 38 runs in boundaries, but only four runs off the other 33 balls. Taylor (44, 73b) seemed set but fell off the first ball of the Power Play to Ashwin, who has settled nicely into the role of an attacking spinner. He's gone for runs but has provided wickets.
Yusuf finished India's tidiest bowler on the day — Nehra had 2-70 in nine — he removed Scott Styris, Vettori and Mills before Franklin's clean hitting produced 63 runs off the final five overs.