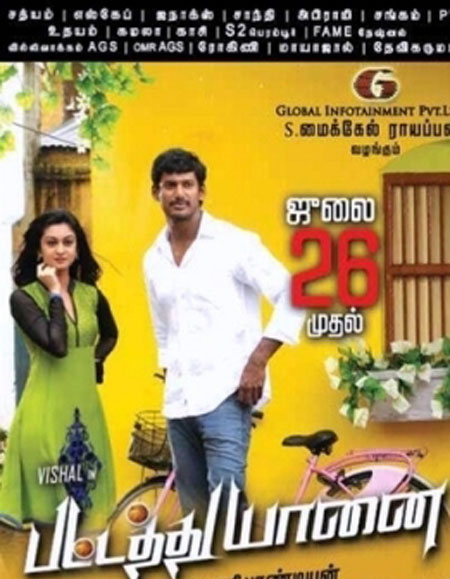 Film: "Pattathu Yaanai"; Cast: Vishal Krishna, Aishwarya Arjun, Santhanam, Jagan, John Vijay, Murali Sharma, Seetha and Mayilsamy; Director: Bhoopathy Pandian; Rating: ***
"Pattathu Yaanai" delivers more entertainment as a comedy entertainer than as an action flick. It could have been a wholesome comedy entertainer provided Vishal stayed away from his aspiration to don the action hero tag.
Despite its corny second half, which struggles due to the unnecessary need to induce action, the film still manages to entertain because of one man – Santhanam, who was far better than ever in his tailor-made role.
A bunch of wedding caterers lead by Santhanam run from trouble and land in Trichy – only to find more trouble. In Trichy, the problems are bigger than before and running away is not an option. When Vishal realises it, he uses force to handle the situation. What follows is an action scene right at the end of first half. This is followed by the revelation of Vishal's bitter past that has its share of some melodrama.
The problem with a film featuring the likes of Suriya, Vishal and few more actors who have been typecast as mass heroes, is that they are forced to do some things which are completely not required.
For instance, even though Vishal's backstory didn't deserve to reek of action, yet we see the director's effort to make it one without worrying about the output. While I agree the second half wasn't bad, but it could've definitely been better.
Pandian, of course, makes "Pattathu Yaanai" a much better action-comedy than several other films of recent past in the same genre. He doesn't fail to entertain us at regular intervals by reminding how well can Santhanam be used even in the most serious scenes.
Humour is also derived from the villains towards the end and this works in the film's favour because few more action sequences might have bored the audiences. Pandian understood the film is a comedy entertainer at heart and even though the 'mass factor' overshadows it, we still see momentary spurts of humour throughout.
If there's one thing that makes this film a terrible watch, then it definitely is the romantic angle featuring Vishal and Aishwarya. There is absolutely no soul in their relationship and needless to say, we're forced to see an actress making a bad debut.
Aishwarya is stone-faced in most scenes and looks artificial with more makeup. In all fairness to her, it was a useless role that was sabotaged by her own bad performance. I was glad that the makers didn't include one final song to celebrate the triumph of their relationship after Vishal beats up all the baddies in the climax.
Vishal was good and showed much maturity in his performance while proving he is good at comedy too.
I haven't enjoyed watching Santhanam before as much as I did in this film. He was brilliant and proves it's the director who messes up his roles in other films where he is mostly seen mouthing dialogues that are considered toilet humour.
"Pattathu Yaanai" is an underestimated film that delivers beyond expectations, barring the romantic escapades of Vishal and Aishwarya. You should totally watch it.