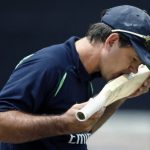 Captain Ricky Ponting is set to start the fourth Ashes cricket test against England after training fully with the Australian team.
Ponting broke the little finger on his left hand attempting a slips catch during Australia's win in the third test at Perth but seemed unhampered Thursday when he took part in throwing and fielding drills at the Melbourne Cricket Ground.
The Ashes series is level 1-1 ahead of the fourth test which starts at the MCG on Sunday.
Cricket Australia has said it expects a record test crowd of 91,000 for the opening day.