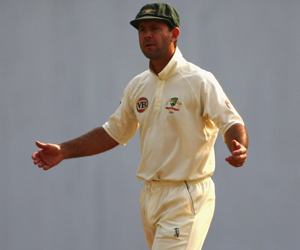 NAGPUR: Australian captain Ricky Ponting is likely to face a disciplinary hearing by the International Cricket Council (ICC) for smashing an LCD TV in the dressing room of the Sardar Patel Stadium at Motera in Ahmedabad.
A furious Ponting after being run out during Monday's game against Zimbabwe, smashed the expensive TV set in the dressing room with a bat.
Though Cricket Australia (CA) spokesperson Lachy Patterson said the issue was blown out of proportion, the ICC was expected make an announcement later Wednesday after receiving a complaint from the Indian cricket board and the Gujarat Cricket Association. "Ricky threw his box (groin protector) into his bag and it flew up into a TV set. It wasn't smashed. There was a small blackout on one corner of the screen. It was still working when (it was) replaced," said Patterson.
Ponting is likely to face a possible fine of part of his match fee.