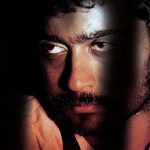 Even as his much awaited trilingual 'Raththa Charithiram' is getting ready for its music launch on Thursday, Ram Gopal Varma, the man of the moment, has spilled the beans on the movie, which has Suriya and Vivek Oberoi in lead roles.
"I never knew what mafia and gang war were until I saw Godfather. It was a foreign story but its emotions were universal. So is 'Raththa Charithiram'. The subject is volatile, obviously there should be some gore and violence", he said.
Expressing hope that the movie would do well in Tamil, the ace filmmaker adds: "It would embolden me to keep making Tamil movies. Kollywood has evolved a lot. We get to see movies of various genres getting released in the south".
On Suriya, he said, "Suriya has donned the role of Suri, who takes up arms for settling scores with his enemies. I have a great regard for Suriya. Working with him has been a delightful experience. He has the intensity of a volcano. He is capable of doing any kind of role".