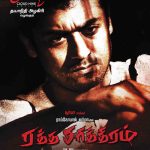 Hindu Makkal Katchi has sent a legal notice to the makers of 'Raththa Charithiram', opposing the film's tagline in its promos- 'Revenge is the purest emotion- Mahabharatha'.
The notice was sent to director Ram Gopal Varma, producer Dhayanidhi Alagiri of Cloud Nine Movies and actor Suriya by advocate N Raja Senthoor Pandian on behalf of his client T Kannan, who is the organising secretary of Hindu Makkal Katchi.
The legal notice says, "(The tagline) has degraded the great belief of Hinduism…since the epic guides the common public about the good principles to be followed in day-to-day life of human beings and the slogan gives a wrong meaning to Mahabharatha".
The legal notice has asked the producer, director and actor to withdraw the slogan, as well as dialogues if any along similar lines. Reacting to this, Suriya has said that the cast and crew of the film had no intention on hurting anyone's sentiments.
'Raththa Charithiram's music launch is scheduled to happen today at 6:30 pm at Satyam Cinemas, Chennai.