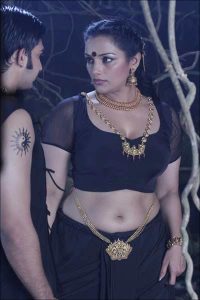 Movie Name:Rathinirvedam
Directed By:TK Rajeevkumar
Produced By:Suresh Kumar
Written By:P Padmarajan
Starring:Shweta Menon,Srijith
Rathinirvedam the movie that made a dimension to Malayalam movies in the of late 70's, will once again comes live in new form and with new actors in the lead. The 1978 movie Rathinirvedam directed by the gracious directed by Bharathan and scripted by P.Padmarajan told the story of a teenage boys love and passion towards an elder woman.
Rathinirvedam, which came out in 1978 (scripted by P Padmarajan and directed by Bharathan), had narrated the lusty affair between a teenager named Pappu and an older woman called Rathi chechi.
The new version has the same story, but has a life on its own.
Pappu (Sreejith Vijay) goes to his mother`s house during a brief break before he joins engineering. There he meets the sexy neighbor, Rathi (Swetha Menon).
Pappu is smitten by her ample charm but the adolescent love that Pappu has towards her, shocks Rathi. But the boy had completely fallen for her.
The story has been set in 1978 and there are some deliberate attempts to show some symbols of those era, that ranges from the switches, cigarettes, car, scooter to the magazines, fan and of course, the costumes.
It is happening in a sleepy village but the whole film has almost been entirely set within the precincts of two adjacent houses.
Though the basic theme has been unaltered in the new version, Rajeev Kumar has succeeded in presenting the film in a manner that is appealing to the audience of these times.
Manoj Pillai`s visuals and M Jayachandran`s music adds to the effect in a great way.
But the song sequences have been shot with modern costumes, which is in sharp contrast with the period mentioned in the story. Also, the climax portions seem to have been done in a hasty way.
Swetha Menon looks a bit older than what the character demands, but she overcomes it all with an excellent performance. Her facial expressions and mannerisms are genuine, which underlines her versatility as an actor which was earlier seen in films like Paleri Manikyam and Paradesi, for instance.
Sreejith Vijay, who had appeared in a brief role in Fazil`s eminently forgettable Living Together, manages to come up with an impressive show. He gives certain believability to the role and to adolescent love, which perhaps every young man goes through, at a certain age.
The rest of the cast that includes Maniyanpillai Raju, KPAC Lalitha, Maya Viswanath, Shammi Thilakan and Guinness Pakru have done their roles very well. The kids who are part of the story look perfect for their roles.
If you are only looking for titillating scenes from the new version of Rathinirvedam, chances are that you may be a bit disappointed. It is a genuine film which focuses on relationships and emotions.
What it succeeds in the end is in narrating a different love story, which happened more than three decades back. Nice one, this.