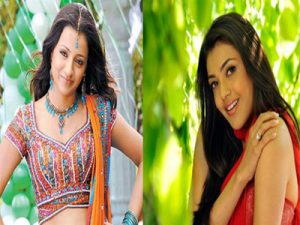 It would be the first time that Trisha and Kajal, two big heroines of Tollywood, to feature alongside Nandamuri Balakrishna in Hara Hara Mahedeva. The film, which started recently on the eve of NBK's birthday, will see Bala Krishna pairing with them for the first time.
Penned by Paruchuri Brothers, Hara Hara Mahadeva will be directed by B Gopal. Earlier Trisha and Kajal were supposed to pair with NBK in his earlier films but it didn't happen due to certain issues and now B Gopal and producer Bellamkonda Suresh made sure that Hara Hara Mahadeva will have all the ingredients that will make it as a block-buster.
It is worthwhile to mention that Balaiah's super hits like Samarasimha Reddy and Narasimha Naidu had two heroines in the lead and looks like the makers are following the same sentiment.
Seems like with Trisha and Kajal as female leads, B Gopal is leaving no stones unturned to make his comeback after a hiatus as big as he can. And mind you this is the first time that both Trisha and Kajal will be seen together in a film. Wonder if they'll have any scenes together?