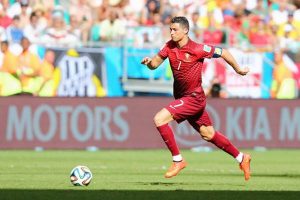 A wounded Portugal, still smarting from a 4-0 defeat by Germany, are fervently hoping that talismanic forward Cristiano Ronaldo is fit when they take on the United States in their second World Cup Group G game on Sunday.
The thrashing was the biggest ever loss the Portuguese have suffered at a World Cup and their misery deepened as central defender Pepe was sent off while Ronaldo struggled for form as he battled a knee injury.
The world player of the year will need to be back to his best for the clash with the Americans, who surprisingly beat Ghana 2-1 in their opening game.
Rumours about Ronaldo's condition have been swirling across the internet and officials were forced to deny reports that his personal doctor had advised him to quit the tournament.
A few days' rest seem to have helped and his team mate Miguel Veloso said the player appeared to be in good shape.
"I'm not a doctor but from what I see, Ronaldo is fine," Veloso told reporters after a training session in Campinas.
"He is training, he is jumping and he is shooting. There is not much else to say."