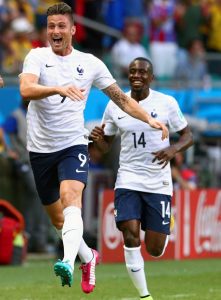 France crushed Switzerland 5-2 in the World Cup Group E match in Salvador on Friday to move closer to knockout phase four years after one of their darkest days.
France, who beat Honduras 3-0 in their opening game, top the standings with six points and will advance if Ecuador and Honduras draw later.
France blasted two goals within 66 seconds as Olivier Giroud headed them into the lead after 17 minutes and Blaise Matuidi added a second almost straight from the restart.
"That was a very good match, we did a lot of things right," France coach Didier Deschamps said in a television interview.
"Five goals against a strong Swiss team, we've got six points, that's ideal."