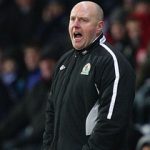 Blackburn Rovers have confirmed that Steve Kean will remain as the club's manager until the end of the season.
The decision has been made after the former Fulham, Real Sociedad and Coventry assistant boss returned from a meeting with the club's owners, Venky's, in India on Wednesday.
Sam Allardyce and No.2 Neil McDonald were ruthlessly sacked earlier in December and Glasgow-born Kean was promoted from his role as a right-hand man on a temporary basis.
The 43-year-old, who has made no secret of the fact that he would like to become a full-time manager, will now occupy the position until June and he will inherit an expected transfer budget of £5million ahead of the winter window.
A short statement on Rovers' official website read: "Following the departure of Mr Sam Allardyce as football manager of Blackburn Rovers football club earlier this month, Mr Steve Kean was appointed as manager.