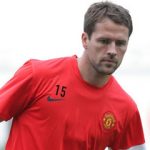 Manchester United striker Michael Owen has declared himself fit for the club's Christmas fixtures.
The former Liverpool and Newcastle forward has not played since suffering a hamstring injury in the Premier League leaders' goalless draw at Sunderland on October 2.
United face Sunderland again at Old Trafford on Boxing Day before travelling to Birmingham two days later and then West Brom on New Year's Day.
Owen told the club's website: "I'm fit and I've been in full training for three-and-a-half weeks.
"The hard bit now is getting back into the side, trying to force my way back into the squad. That's not easy at Manchester United."
United remain unbeaten and have taken advantage of Chelsea's recent loss of form to move top of the table with three successive wins.
Owen admits that, although the competition for places at United is tough, it does at least mean players do not have to be rushed back from injuries.
That is crucial for the 31-year-old, who has suffered hamstring problems throughout his career and missed the end of last season – and had hopes of going to the World Cup with England ended – because of one.
He also had a groin injury earlier in the season and the Sunderland game was his only Premier League start of the current campaign.
Owen added: "There are that many quality players at United that you're given as much time as you need to come back from injury.
"I injured my hamstring at the beginning of October, which kept me out for six weeks.
"Since then I've been able to train fully and work my way back up to full fitness – now I'm fit and hope to play a part in the games over Christmas."