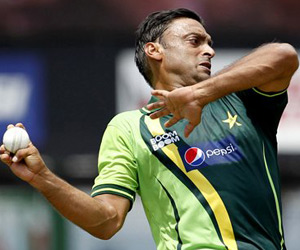 COLOMBO: He has had some of the most memorable on-field battles with Sachin Tendulkar but maverick speedster Shoaib Akhtar claims he was never scared to bowl at the legendary batsman.
Instead, it was dashing Australian 'keeper-batsman Adam Gilchrist and West Indian legend Brian Lara who "scared the hell" out of him during his 14-year international career.
"Yes, that's true. But that doesn't mean I have no respect for Sachin. He is a legend and will always remain as one. But Sachin would never scare me. Guys like Gilchrist and Lara would scare the hell out of me," Akhtar, who recently announced his retirement from international cricket after the World Cup told espnstar.com in an interview.
Shoaib who played 46 Tests and 163 ODIs for Pakistan was in awe of Lara and Gilchrist.
"Gilchrist would simply take me on. Lara was class apart. In fact, I would be so attracted to his persona that I wouldn't know where to bowl…His body-language was just too cool!"
For someone who has been in the news for his off-field activities as well as his on-field exploits feels that had the iconic former Pakistan captain Imran Khan been around during his playing days, things would have been different.
"He (Imran) was like a father figure. I have missed him badly. If he would have been there, I would have become a better bowler and a better person, may be," he answered.
Talking about his regular run-ins with the PCB, Akhtar said that it is the system that made an anti-establishment man.
"The system made me quite an anti-establishment fellow. Ever since I started playing cricket, I was told that, I wasn't good enough. Whether at the club level or national or international level, I was told I was never good enough. That made me more determined.
"My system refused to swim with the tide. I was exactly the opposite. In spite of this, I have played cricket with my head held high. No one say I have compromised myself when playing for Pakistan. Have you ever seen that I been linked with match fixing?," he shot back.
Akhtar whose career was start-stop one due to numerous injuries including five major knee surgeries also spoke about playing through pain.
"There have been days when five syringes would be inserted on each of my knees to draw out fluid. I would scream with pain because my knees would be swollen like melons and I would feel that someone was ripping off my thigh muscles. But next day, I would go there and fire the ball at close to 150 kmph or more. That's Shoaib Akhtar for you.
"There were two Shoaib Akhtars in me. One that told me to 'give up cricket' and the other one that said 'conquer the odds.' The second one always prevailed. It's because of this I am playing the World Cup."
He was a touch emotional as he termed his retirement as his second death.
"I am surrounded by some sort of emptiness and sadness. For 20 years, I have fought to play cricket. I fought injuries, I fought against so many things. Now I have decided to leave something I loved. It hurts."
Having got a lot of fame, money and adulation from the game, the star cricketer wants to give something back to the society. In fact like his idol Imran Khan, Shoaib wants to build a hospital.
"I want to build a hospital in Islamabad… somewhere in the remote hills where no one can imagine. I will lay the first brick and then God will help me do the rest. My real life begins now, the life away from the spotlight. There are so many things that I want to do now. I want to leave my mark on the common man."
He makes no bones about the fact the he wants to emulate Imran.
"What Imran has done is unimaginable. People call him a cricketer-turned-politician, but I call him a revolutionary, a visionary. When you step in his cancer hospital, you get the feel of what he has done. I want to emulate him."