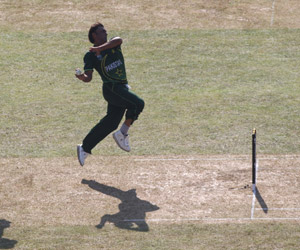 COLOMBO: Australian captain Ricky Ponting today hailed retiring Pakistani tearaway pacer Shoaib Akhtar as an outstanding cricketer and the fastest bowler he has ever faced.
"Congratulations to him for being an outstanding cricketer," Ponting said of Akhtar who yesterday announced his retirement from international cricket after the ongoing World Cup.
"I had some great duels with Shoaib over the years. To this day I always said he is the fastest bowler I have faced in international cricket," said Ponting of Akhtar, who broke the 100mph barrier in 2003.
Ponting said particularly he remembered a fierce spell from Akhtar at Perth in 1999.
"There's one spell that everyone can watch on internet of him bowling to me at WACA.
That was reasonably entertaining — more so for Justin Langer, who was at the other end laughing at me all the time when I was trying to keep Shoaib's deliveries out.
"He was express pace, a very good bowler," the Australian said.
Ponting lamented the fact that Akhtar had had an injury-prone career, which had reduced his international appearances.
"Over the years he has had his fair share of injuries that have not allowed him to play as much as he would have liked," he said. "But even in this tournament so far, you can see that he's still got it with the new ball. He still has good pace, and his experience has helped him at different times."
Akhtar returned the compliment, describing Ponting as one of the best batsmen he had ever bowled to.
"I admire the way Ponting bats," said the mercurial Pakistani. "He is one of my favourites, like Brian Lara and Adam Gilchrist."