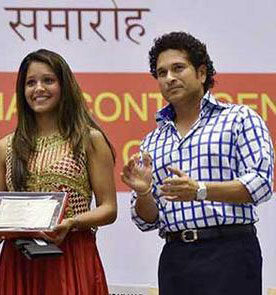 Differently-abled and women athletes, especially from the rural areas, drew special praise from cricket icon Sachin Tendulkar as he advised Indian sportspersons to follow their dreams with a single-minded devotion. (Also read: Sachin Tendulkar says medical emergency kept him away from parliament)
Addressing Indian medal winners in the recently-concluded Commonwealth Games, Tendulkar said that he was impressed by the commendable show of the Indian sportspersons in the Glasgow Games. (Tendulkar yet to attend parliament this year)
"My heartfelt congratulation to Team India for doing so well in the Commonwealth Games. I am privileged to be among you today. As a sportsperson, I understand what takes to go out and compete and bring laurels for the country," Tendulkar said.
"My special congratulation to women athletes like Sakina Khatun and Dipa Karmarkar and also to Rajinder Rahelu. You all are excellent," he added.
Khatun and Rahelu clinched a silver and bronze medal respectively in women's lightweight and men's heavyweight para-powerlifting competition in Glasgow.
Tendulkar took Khatun's phone number when he and sports minster Sarbananda Sonowal gave away a momento and the prize-money cheque to her during the felicitation.
"Tendulkar congratulated Khatun on her achievement and took her phone number. May be he wants to contact later on," Munawar Anzar who accompanied Khatun at the dais told PTI.
Tendulkar was also seen talking to Rahelu for some time when the para-powerlifter came to the dais on a wheelchair with an escort.
"He (Tendulkar) told me it was an excellent job and asked me how I feel after winning the medal. He told me I should keep it up," said Rahelu when asked what Tendulkar told him.
Tendulkar also praised those sportspersons who hail from the rural areas, considering the lack of facilities and more obstacles they must have faced as compared to those in urban areas.
"Athletes from the rural parts of the country, especially women, it must be really hard for you to come up to this level considering the lack of infrastructure and more obstacles you must have faced than others," said Tendulkar who also launched the new logo of the Sports Authority of India on the occasion.