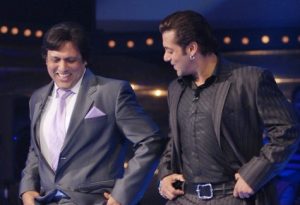 Pssssssssst… The much talked about second innings of the highly entertaining 'Partner' starring close real-life buddies Salman and Govinda may not happen…!
The David Dhawan helmed money spinner which gave a second lease of life to once Bollywood entertainer No.1 was tipped to come with another more humorous issue but it went on getting delayed and now people are asking whether it is happening or not…..
The common reasons which we read in media by the people associated with the film is that they are working on a proper script and Salman's dates, but a close hand reveals that there's something more personal and emotional to this delay…
Is it really that they are looking for the right script or there's another story…
Read on….
Nowadays, we don't see god old pals Salman and Govinda together and even after the super success of 'Dabangg' Govinda was not seen or heard much…. The reason is Narmmadaa Ahuja – Govinda's daughter.
It is said that Govinda expected Salman to give a break to his daughter Narmmadaa in 'Dabangg' but the role went to B-town veteran villain-cum-actor Shatrughan Sinha urf Shotgun's daughter Sonakshi Sinha who immediately became the apple of the tinsel town and the public as well.
Casting of Sonali bowed the seed of difference between Salman and Govinda and as a result the sequel 'Partner2' has got affected.
It is also rumoured that Salman was not happy with this delay and he even expressed his feelings to David but of no use. They have patched up but after some narazgis.
So folks don't go by the words waiting for the right script, it might be something else…
We all wanna 'Partner', but we will have to wait till everyone say 'yeah'.