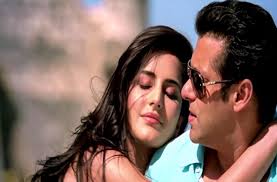 Well Sallu has moved on and after the shaping the career of Kartrina Kaif and helping her in bollywood.. B-town Dabangg is not sitting idle after his break up with Katrina who is currently in news for posing with Ranbir Kapoor closely and cozily in Spain for a holiday..
Salman Khan was seen with his latest love interest the Romanian beauty actress Lulia Vantur in Hyderabad enjoying a picnic during the shoot of his upcoming 'Mental' along with some other members of the unit.
Salman is seen sporting a shirtless torso, while Lulia is seen in a yellow 'Beign Human' tee and a pony tail.
And that's not all. In another picture you can see Lulia having dinner with Salman Khan and his close friends and bodyguard Shera.
A couple of months ago we all where hearing of Salman new found love with a Romanian and here is the proof.
Well we are also hearing the news of Salman Khan seriously trying to buy a new house for his girlfriend Lulia in Mumbai..
Stay tuned for more on this…