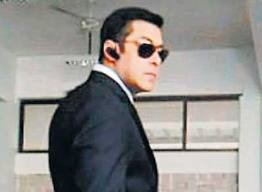 Salman Khan is known to ask people close to him to do the oddest of things at the oddest hours. It is therefore no surprise to know that he rang up Mahesh Manjrekar recently with an offer that the director-actor couldn't refuse.
"You're in 'Bodyguard," he told Manjrekar, who has been angling to get Salman to listen to his script for a film that he has been meaning to direct with the star in the lead for a year now.
Now Manjrekar has to join the "Bodyguard" team from April 3.
The funniest part of Salman's film offer is that Manjrekar is clueless about what he's supposed to play.
"He hasn't told me what I play in 'Bodyguard'. He has just asked me to join the unit. I don't mind. I never ask him about my role because I know he's asking me with a good role in mind. I think Salman prefers me to be an actor. He keeps offering me roles in his films. I don't get a chance to direct him at all," said Manjrekar who directed films like "Vaastav" and "Astitva".
Ever since Manjrekar appeared as the main villain in "Wanted", Salman considers Manjrekar as his good luck mascot. Even in "Dabangg", he was cast as Sonakshi Sinha's father.
For Anees Bazmi's "Ready" too, Manjrekar was not told what his role was until he arrived on location in Colombo.
"When I landed there I realized I had a positive role in 'Ready'. Thank god, I wasn't playing a lecher. It was becoming tough for my 17-year-old son to explain to his friends why his father was always playing leery characters. Hopefully, in 'Bodyguard' too I'll have a positive role," said Manjrekar.